A lot of SaaS companies, when considering the channels they will use to maximize their efforts and growth, turn to SEO as a holy grail to gain organic visibility and build a solid foundation of brand identity and awareness.
After all, some of the most successful SaaS companies have paved the way as impeccable examples of what mastering an SEO strategy can do for one's brand.
What first crosses someone's mind when considering SEO, is of course writing blogs to attract organic traffic and acquire leads.
However, SaaS SEO is much more than that.
In this guide, we're going to go over what SaaS SEO is, why it truly matters, and some key SaaS strategies you should invest in, along with some examples.
To be precise, these are the strategies we'll cover:
Let's begin with the definition of SaaS SEO.
What is SaaS SEO?
SaaS SEO is the process of increasing the organic visibility and presence of a SaaS (Software as a Service) company's website, so a growing number of users find it when performing relevant searches in search engines.
By optimizing the pages of a SaaS website by targeting relevant keywords, users can easily find them, get valuable information, and ultimately become leads and further advocate for the SaaS company as a leader in its field.
Undoubtedly, SaaS SEO is crucial for both B2B and B2C companies as it can help them set their products and services apart from all their competitors in the field.
Despite their differences, B2B and B2C companies share the same vision and goal to shape their brand identity and increase engagement so that visitors go further down the marketing funnel, become leads and ideally customers.
Although SEO, as we all know it in its traditional form, is the crucial component of SaaS companies, here comes a distinctive difference which is the business model of SaaS.
Once a client signs up and starts paying to use a product, a long process of software support and customer service comes hand in hand.
New users are constantly entering the funnel at different phases, as they are looking for information, product comparisons, and so on.
On the other hand, keeping current subscribers happy is also fundamentally important.
In essence, SaaS companies need to find the sweet spot of balancing everyone's needs.
This is why SaaS SEO is different and at the same time so unique.
Moving on, now that we talked about what SaaS SEO is and why it matters, let's break down the core elements of a winning SaaS SEO strategy that you should definitely take into account.
SaaS SEO Strategy #1: Blog Content
As we earlier mentioned, most of the times when talking about SaaS SEO, what first comes to mind is blog content.
Blog content is indeed a fundamental pillar and part of an SaaS SEO strategy, as it provides the space for organically "advertising" someone's products and services.
Besides that, blog content serves more purposes such as promoting a company's unique culture and of course building authority in the area that matters most to the company.
Also, it's cost effective with long lasting results, especially when comparing it with PPC which once a brand ceases investmenting in it, the campaign comes to an immediate end.
It's also worth mentioning that CACs (Customer Acquisition Costs) through PPC are constantly on the rise, while CACs via SEO tend to remain stable.
In fact, according to a study by WordStream, the cost per lead in Google Ads has increased by 19% for the majority of industries YoY.
Blog content can take many forms from detailed how-to guides and lists, to company news regarding the launch of a new product or service.
No matter the form of the blog content you should always bear in mind to mine the SERPs and do research for keywords and topics that resonate with what your audience needs, otherwise you might fall into the trap of your blog going unseen.
A good example worth mentioning here is Monday's blog.
Monday is a well known project management software company that allows users and teams to manage their projects from a single, centralized location.
As we can see from the example below, its blog provides a wide range of topics such as practical guides with FAQs, and terms e.g. "customer onboarding", that target audiences at different stages in the marketing funnel.
From what we can see in the Ahrefs report, their SEO strategy repays with notable results.
Numbers speak louder than words, as on a monthly average, they generate 51K backlinks, they show up for 216K keywords and they bring 413K organic visits to their blog section alone.
Disclaimer: All data presented in this guide are valid as of September 2023
Moreover, Monday generates in total 1.1 million in traffic every month, which means that the blog page contributes a little bit less than half of the site's monthly traffic!
Moreover, Monday generates 1.1 million in traffic every month, which means that the blog page contributes a little bit less than half of the site's monthly traffic.
Quite impressive, isn't it?
Following up, let's jump to the second SaaS SEO strategy which is no other than the glossary.
SaaS SEO Strategy #2: Glossary
To continue with, adding a glossary section to a SaaS company's website when it makes sense, can be key to drive growth and rank for more industry related terms.
Implementing a glossary into your site, if done right and upon thorough research, can ultimately attract more organic backlinks and further boost the internal links of your site.
Glossaries may be formatted in various ways, but generally speaking the rule of thumb is to list your terms in alphabetical order along with their respective definitions.
A comprehensive example worth mentioning here is Freshbooks.
Freshbooks is an accounting web-based software as a service model for small and medium-sized businesses.
Its glossary as we can see below is well structured and provides easy navigation and as a result, great user experience.
What is more, a user can easily filter by 4 different categories for quick navigation in no time.
If we take a deeper look at Ahrefs, we can see that the glossary page drives approximately 91K in traffic per month to Freshbooks's website.
What is more, in the following table, we can see 5 terms (subfolders) that drive the most traffic.
They are the following terms:
Financial
Accounting
Quarter
Tax
Small business
Besides the glossary, another strategy worth mentioning is topic clusters.
SaaS SEO Strategy #3: Topic Clusters
During the years, topic clusters have emerged to become a hot topic in the realm of SEO with a growing number of people who swear by its effectiveness and its importance.
We cannot blame them, can we?
In essence, topic clusters are interlinked pages about a particular, yet ideally broad subject.
Their main components consist of a pillar page focused on a broad topic such as "SaaS SEO", a "cluster" of pages covering related subtopics in more detail and of course internal links between these pages, to ultimately boost link juice, also known as link equity.
Topic clusters really matter as they help search engines better understand the structure and hierarchy of one's site.
Thus, they should be an integral part of a SaaS SEO strategy, considering they may help search engines see your site as an authority on a specific subject.
Looking to multiply your SaaS business's
traffic and conversions?
Let's have a chat to see how we can help!
Topical authority is a key SEO element and a driving force behind a better potential to rank for topically related keywords.
Let's see an example for better comprehension.
The example we are going to cover is another accounting software named Wave.
Wave is a company that provides financial services and software for small businesses.
What differentiates Wave from other SaaS companies regarding its website structure, is that it encompasses what a topic cluster should be.
More specifically, it offers a freelancing hub that functions as a pillar page, subtopics that further break down in more detail the main topic and of course internal links between them.
And the interesting yet quite smart thing here, is that while Wave is an accounting software as a service company, its freelancing hub doesn't relate to accounting but targets visitors who work as freelancers and might use its service as part of their freelancing jobs.
Thus, the topic cluster with the top 5 cluster pages can be visualized like this.
The following URL structure breakdown depicts how a topic cluster is built.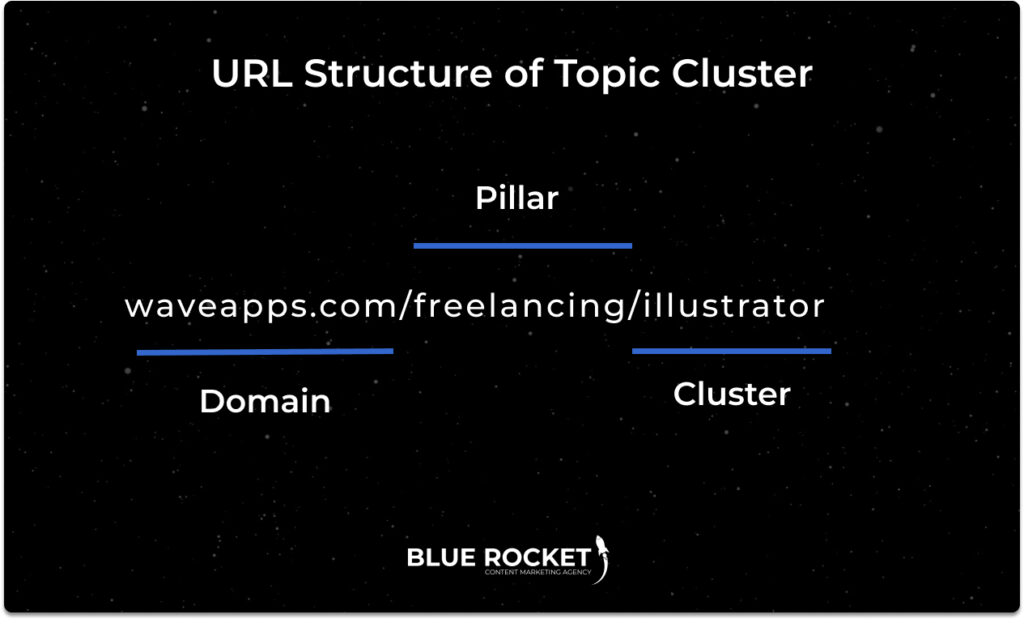 First we have the site domain and then our subfolder, also known as pillar page or hub page which is broken down into the respective folders which are the cluster pages.
Moreover, if you take a closer look at the Ahrefs report, you can see that the site shows up for approximately 80K keywords and the freelancing hub page shows up for approximately 16.2K organic keywords.
If we do the math, that means that the freelancing hub compensates for almost 1/5 of the total keywords that the site shows up for in the SERPs.
Now that we talked about the third SaaS SEO strategy, let's move on to the fourth one, which brings us to tools, calculators and templates.
SaaS SEO Strategy #4: Tools, Calculators & Templates
The Jobs to be Done (JTBD) framework, also known as Jobs Theory, is a well known method of analysis in the fields of product development, marketing and applies great to SEO as well.
Tools, calculators and templates fall under this category of JTBD as many SaaS companies choose to implement them as entities into their site, but their motive is not necessarily to expand brand awareness or increase conversions.
The search intent behind searches such as "ROI calculator", "free business tools" or "invoice templates", is quite specific as the user turns to Google to find very specific information or complete a task during their day.
A great example worth mentioning here is Asana.
Asana is a project management software that facilitates the process of managing tasks related to several clients and teams.
Asana features a page dedicated to templates for multiple use cases from IT program management templates to employee onboarding and so on.
Moreover, if we take a look at Ahrefs we can see that its templates page brings almost 28K in traffic to Asana's site and shows up for almost 23K keywords each month.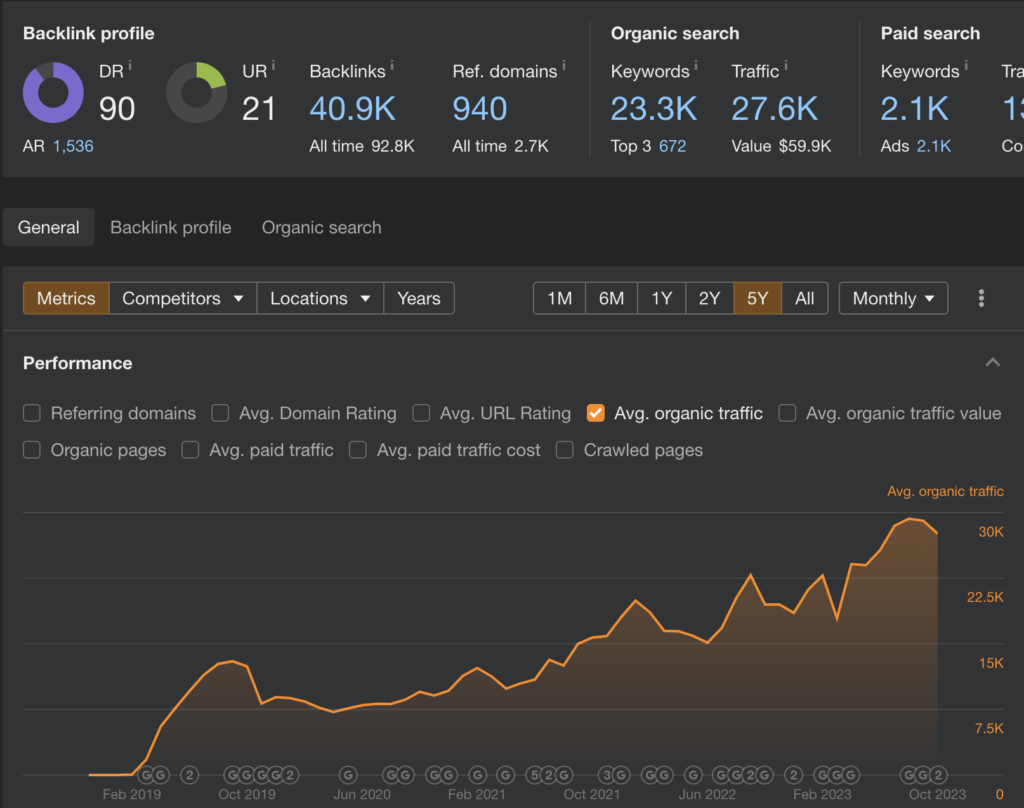 Also, some of the top keywords that bring the most traffic to Asana's template page are the following ones:
To continue with, incorporating pages under the umbrella of Job to be Done, is a great way to build trust.
According to Christensen Institute: "With an understanding of the "job" for which customers find themselves "hiring" a product or service, companies can more accurately develop and market products well-tailored to what customers are already trying to do."
Moving on, let's analyze the last yet quite effective SaaS SEO strategy.
SaaS SEO Strategy #5: Comparison & Alternatives Pages
A quite common tactic that a lot of SaaS companies tend to rely on and swear by is to feature comparison and alternative pages.
Usually, comparison and alternative pages follow the same pattern that has been proven to function really well.
In most cases, when a user searches for a comparison between products or for the best alternatives to a product or a service, their intent is to make a purchase as they are further down the marketing funnel.
So they are in the decision stage where they try to compare the features each company offers and decide which best suits their needs.
Let's take Moosend as an example for better comprehension.
Moosend is an email marketing and automation software. Recently it crafted an alternative page named "9 Best Mailchimp Alternatives".
Since Mailchimp is one of its main competitors, it made sense to strategically create this page, where it analyzed the best alternatives, starting with no other than Moosend itself.
If we take a closer look at the Ahrefs report below, we can see that each month, the said page brings 5K in traffic to the site, which might not be phenomenal but its a page with high commercial value.
This means that since the total traffic to Moosend's site is 137K, the Mailchimp alternatives page accounts for almost 4% of the total traffic!
Furthermore, the creation of this alternative page by Moosend, makes even more sense if we look at the top keywords that their site ranks for.
Yes you guessed it! Among the top keywords that their site ranks for are mailchimp competitors with 430 monthly visitors, and mailchimp alternatives with 383 monthly organic visits.
Final Thoughts
To conclude, we talked in detail about what SaaS SEO is and why it matters, along with some effective strategies that if followed can bring astounding results.
The examples mentioned above can potentially give you a glimpse of what investing and immersing your brand and efforts into SEO can do, no matter its size.
SEO is an integral part of some of the most innovative and well known brands, since it's cost effective and brings long lasting results without spending a fortune.
Thus, in order to take your company and your marketing efforts to the next level, it is vital to invest in the world of SEO and your brand will see exponential growth.
If you are intrigued and want to learn more about how you can be ahead of your game and stand out from the competition, don't hesitate to book a free call with us to discuss your SEO needs!